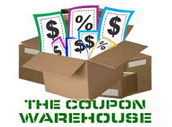 Check out Plum District
for a One Year Subscription to Coupon Warehouse for just $15!
Normally, I would not suggest actually paying for a coupon clipping service subscription….but this subscription comes with a $1000 coupon bank! I was a little skeptical of the deal so I dug around on the website a little. I thought the prices would be higher than most other services like 20-30% maybe. But no! They are the same 10% that pretty much all other coupon clipping service sites charge! (ex: $1 face value coupon will cost 10% or $.10 to order)
So basically here are the perks I see with this deal:
Spend $15 to get a $1000 coupon bank!
No need to get up early on Sunday and fight to get papers…then find out someone has already removed the coupon inserts!
Ability to order regional coupons
Coupons come pre-clipped! Score!
No need to buy papers when there are really only 2 coupons inside that you want.
***This post may or may not contain affiliate links. Just sayin'***